(This was the inaugural meeting of the newly elected Clarence-Rockland
City Council, with Daniel Gatien as CAO - Photo Patrick Meikle)

Headlines this page
Helen Collier named C-R's Interim Chief Administrative Officer
Conflict of Interest Complaint Against Raymond Serrurier withdrawn
C-R Council members and lawyer face court Feb. 4
Ontario MPP Randy Hillier proposes recall bill
C-R Councillor Raymond Serrurier calls it quits
Results of the first court appearance
C-R Council meeting: stand off between protesters and a mayor who will not resign
News Roundup: continuing saga in local politics - several stories...
OPP concludes investigation into Clarence-Rockland mayor and councillors
Marcel Guibord: "...nobody who conspired against the former CAO"
Ottawa Citizen: Clarence-Rockland council saga continues
C-R Council: Tuesday meeting to discuss 'possible litigation'
Former C-R CAO threatens legal action against city
C-R Council Meets behind closed doors - undercover-cops-attend
News Conference: "Old guard" responds to mayor's statement
Clarence-Rockland municipal council in disarray
Police want to question Rockland mayor, councillors, in anti-rackets probe
Helen Collier named C-R's Interim Chief Administrative Officer
(Rockland, March 25, 2014) The City of Clarence-Rockland has named Helen Collier as Interim Chief Administrative Officer.
In a statement on the City's website, Mayor Marcel Guibord said:
On behalf of the Municipal Council, the employees as well as City of Clarence-Rockland's residents, I would like to congratulate Ms. Collier for her new position. Since her arrival at the municipality, more than a year ago, Mrs. Collier soon proved to be a leader with good management skills with Council Members as well as with employees and citizens.
The press release goes on to say that Collier has extensive municipal experience, having held several management positions for the City of Ottawa. She has over 25 years of service at the municipal level in Nepean, Gloucester and Ottawa.
And if you continue reading below the news release you will see that the mayor has added more comments about Collier's background
---
It did not take long for the interim CAO to reflect her new status on her LinkedIn page. Her education includes York University - Schulich School of Business, and Carleton University.

Her previous positions with Clarence-Rockland are shown as: Acting Deputy Treasurer and Development Charge / Asset Management Planner. Prior to that she was emplyed by the City of Ottawa. You can view her extensive profile here.

One interesting note on the profile under Languages:
French (Limited working proficiency)
Her interests include: Skiing, Hiking, Gardening & Family Activities
---
Le Droit newspaper carried the new appointment in a March 26 story wherein the mayor said he would not look for a permanent CAO before the October 27 municipal election.

The mayor said: For now we have found the person who will follow us to the end of our term. View a photo and read more in French...
Back to top
Conflict of Interest Complaint Against Raymond Serrurier withdrawn
(Rockland, Thursday, January 9, 2014) According to a statement released by former C-R councillor, Raymond Serrurier, all applications that had been filed against him at the Superior Court of Ontario by Jacques Archambault and Jean-Claude Marinier were withdrawn on Monday December 9, 2013.

The application was dropped without any conditions or costs being imposed on the former Clarence-Rockland councillor.

''This decision on the part of the applicants strangely coincides with my obtaining a copy of an email sent to a city employee by a member of council which proves that at least one member of the Clarence-Rockland council was behind the complaint against me,'' says Raymond Serrurier.

This email was obtained through an Access to Information request; consequently, Mayor Marcel Guibord was aware that Mr. Serrurier had this information.

Prior to the withdrawal of the complaint, Mr. Serrurier had given instructions to his lawyers to proceed with adding this email as evidence. (
Click on the photos to enlarge.)

This information could have also shown that one of the applicants may have perjured himself while testifying under oath.


Raymond Serrurier added : ''This closes a dark period of time where my integrity was questioned. I wish to assure the citizens of the City of Clarence-Rockland that at no time while I was a member of city council did I or any member of my immediate family ever knowingly benefit, either directly or indirectly, from my position as municipal councilor. I always acted in good faith for the benefit of the people of Clarence-Rockland and I make no apologies for that.''
Back to top
UPDATE: Pre-trial hearing set:
C-R Council members and lawyer face court Feb. 4
(Tuesday, December 3, 2013) The court case involving the mayor and two councillors of the City of Clarence-Rockland moves on into the new year.
Mayor Marcel Guibord, Councillors Diane Choinière and Guy Félio, and local
lawyer and businessman Stéphane J. Lalonde were scheduled today for their
second provincial court appearance in L'Orignal on breach of trust charges.
Lalonde is also charged with counselling to commit breach of trust.
The case is now adjourned to the February 4, 2014 session for a judicial
pre-trial hearing.
The charges against the four resulted from an OPP investigation of a series of
emails exchanged between them following the 2010 civic election. The content of most of the emails concerned ways to force the resignation of Daniel Gatien,
the city administrator at the time. Gatien had a defamation suit in place
against Lalonde, who was a former business partner of Guibord.
Back to top
(Sun News, November 21st, 2013) Ontario MPP proposes recall bill: Hey frustrated Rockland voters! PC MPP Randy Hillier has introduced Bill 124, which would empower citizens to recall a politician with a petition signed by 25 per cent of voters. More...
(Put your mouse over the scrolling to stop it)
C-R Councillor Raymond Serrurier calls it quits
(
Nov. 20 - See Wednesday's updated story from Le Droit... click here.)
(Rockland, Tuesday, November 19, 2013) In a move that caught everyone off guard, one of
Clarence-Rockland City Council's most knowledgable members, Raymond Serrurier, tendered his resignation at last evening's regular monthly meeting, and abruptly left the chambers during the first break.
(Catch the action on TVC-22)(11 minutes in to the video. You can also note the Mayor's reaction, followed by reaction from members of the public during the "Question Period"...)
(Click on pictures to enlarge...)
CBC News: He gave no apparent reason however a CBC news story was quated as saying: "In a letter to town council, Raymond Serrurier said he has lost confidence in the council's ability to meet its obligations." Read the full sto
ry here.
The Ottawa Citizen reported: "Rockland councillor quits 'this dysfunctional council'".
"After three years of exclusion, lack of ethics, lack of respect and a divisive leadership, I have had enough. I have lost confidence in this council's capacity to act, where in my opinion, the majority relentlessly follows a personal agenda rather than work together for the greater good of all of Clarence-Rockland's citizens," Surrier said. Read more here.
---
Clarence-Rockland Mayor, Marcel Guibord was quick off
the mark to reply to Mr. Serrurier's resignation, calling his
remarks "an insult to the members elected by the people".
More...
Nov.20 Le droit Story:
"Mayor Guibord goes on the offensive".
(The mayor initially demonstrated diplomacy when he learned of the departure of his toughest opponent to the council table Monday night, but the tone had hardened in a statement released Tuesday.)
More...
(Click here to get a Google Translation of the story, clicking on "Translating".
Serrurier translates to Locksmith in English!)
---
The local Vision Newspaper carried the story in French: "Raymond Serrurier démissionne": "After three years of exclusion, lack of ethics, lack of respect and leadership splits, I've had enough," said the Ward 4 councillor. This newspaper also cited family health challenges as part of the reason. Read more...
Le Droit also carried the story in French: "Un conseiller claque la porte à Clarence-Rockland" (Councillor slams the door on Clarence-Rockland): A clap of thunder in the City of Clarence-Rockland. Councillor Raymond Serrurier one of the fiercest opponents of Mayor Marcel Guibord at the council table, threw in the towel. Mr. Serrurier announced his resignation on Monday, at the opening of the council meeting, to the surprise and disappointment of many residents present. Read more...
As did Radio-Canada: "Le conseiller Raymond Serrurier de Clarence-Rockland remet sa démission": "In Eastern Ontario, Raymond Serrurier, Clarence-Rockland councillor, presented his resignation Monday night, more than a year after aconflict of interest complaint filed against him." Read more...
And 94.5 - Unique-FM: "Clarence-Rockland: Marcel Guibord réagit au départ de Raymond Serrurier": Read more...
---
You may also find interesting many of the comments that have been posted here:
Citoyen de Clarence-Rockland Citizens


(Click on graphic for link.)
Back to top

Results of the first court appearance:
(L'Orignal, Wednesday, October 23, 2013) As expected, nothing happened at today's court appearance for the three council members and one lawyer who have been charged with breach of trust. In fact the accused were not even present, represented by their lawyers. Evidently the Crown Attorney's office from Ottawa will be prosecuting the case.
This was a "first appearance court", held before a justice of the peace. It was an "administrative" hearing to among other things to determine that the accused righs were not breached. The matter has been adjourned to December 6. The saga continues...
Back to top
Clarence-Rockland Council meeting a stand off between protesters and a mayor who will not resign
Just a few of the protesters waiting for Mayor Marcel Guibord outside of the Bourget
location for the Clarence-Rockland council meeting - Photos - Patrick Meikle
(Click on photo to enlarge)
(Bourget, Monday, October 7, 2013) In a (French) story in Monday evening's online edition, the Vision Newspaper quoted Mayor Guibord as saying: "It's been three years since we were elected. We were elected for a term of four years. We have a right and an obligation and we are not obliged to leave here.
The news item then reported some of the action outside the meeting room as people gathered, many of them carrying placards demanding the mayor and councillors Félio and Choinière resign. Later as the trio entered the council room one by one, they were met with boos and cat calls.
This was the first opportunity for citizens to express their concerns, since charges were laid and they executed a well-planned protest both outside and inside of the meeting. During the question period, at least 16 persons approached the podium, most to demand resignations. A couple of speakers who defended the mayor, were met with noisy jeers from the predominantly anti-Guibord crowd.
After a short recess when the council returned to continue the evening's agenda, Councillor Raymond Serrurier asked the mayor to apologize for remarks allegedly made in a local newspaper. The mayor said he had nothing to apologize for. And with that, councillors Serrurier, and Bernard Payer, promptly packed up their notes and left the room, immediately followed by councillors Guy Desjardins and Michel Thivierge.

Councillors Desjardins and Thivierge are seen leaving the meeting as they follow
councillors Serrurier and Payer, now out of the picture, leaving the mayor
without a quorum. (Click on photo to enlarge)
This left the mayor, councillors Félio, Chonière and René Campeau sitting alone, and without a quorum (councillor André Henrie was absent), the meeting was over. Then as
the mayor tried to speak to the crowd, he was shouted down by a loud chant of "resign, resign", which lasted over five minutes... a dramatic ending to a raucous evening and super-charged protesters. (View part of the chant here.)
Back to top
Clarence-Rockland council - News Roundup:
The continuing saga in local politics...

(These three members of Clarence-Rockland City Council, along with lawyer Stéphane
Lalonde have been charged with breach of trust. Photo collage - Vision Newspaper)
Clarence-Rockland mulls arrest powers for by-law officers - Embattled mayor Marcel Guibord says council meetings frequently disrupted
(CBC Ottawa, Monday, October 7, 2013)Town councillors in the embattled eastern Ontario community of Clarence-Rockland are looking at giving their by-law officers the right to handcuff people, including unruly citizens at council meetings. Clarence-Rockland's administration committee discussed granting the greater powers to by-law officers on Aug. 26 to help keep council meetings under control. More...
Clarence-Rockland councillors ponder handcuffs for unruly protesters at council meetings - Committee proposes giving bylaw officers power to make arrests
(Ottawa Citizen, October 7, 2013) Embattled Clarence-Rockland Mayor Marcel Guibord and co-accused councillors charged in a political corruption investigation are now thinking about giving the town's bylaw officers the power to make arrests at unruly council meetings. "Following a discussion, René Campeau (committee president) confirms that our bylaw officers could, with minimal training, handcuff problem people and escort them outside during meetings," the minutes state. (Story no longer available)
Catholic school board places teacher Diane Choinière on leave in view of Rockland corruption scandal
(Ottawa Citizen - Monday, September 23, 2013) The Ottawa French Catholic School Board says one of its teachers will be "absent" from class while the board analyzes the political corruption case against her.
Diane Choinière, who is also a Clarence-Rockland town councillor, is charged with breach of trust following a two-year investigation by the Ontario Provincial Police's anti-rackets squad.
The political scandal is the talk of Rockland, where citizens are organizing a protest for the council's Oct. 7 meeting. More...
Rockland resident requests "immediate resignations"
(Friday, September 19, 2013) Rockland resident Carole Gagnon requests "immediate resignation from our city council" of : Mayor Guibord, Mr. Felio et Mme Choinière. Read her letter to the editor. Click here...
Citizen editorial untangles the web in Clarence-Rockland
(Friday, September 19, 2013) The long-running political spectacle that paralyzed Rockland council for months and turned it into something of a laughing stock should be coming to an end soon. More...
Guibord intends to stay on as mayor
(Thursday, September 19, 2013) Le Droit is running a story advising that Mayor Guibord does not intend to resign despite the criminal charges of breach of trust against him. Read the French coverage here.
Three Rockland politicians and lawyer charged
(Wednesday, September 18, 2013) In the latest news to come out of what some of the locals are calling C-R City Council "sideshow", Mayor Marcel Guibord, councillors Guy Félio and Diane Choiniere along with lawyer Stephane Lalonde have been charged with breach of trust. Lalonde was additionally charged with counselling to commit breach of trust.
All were arrested, fingerprinted and charged Wednesday, and all were all released after signing promises to appear in court in L'Orignal on Oct. 23.
Following the events can be confusing, and we have included links to some of the current coverage, below:
The Ottawa Citizen:
Clarence-Rockland mayor, councillors and lawyer formally charged in political corruption probe.
According to the Citizen report, Mayor Marcel Guibord pulled into the Ontario Provincial Police station at 9:28 a.m. Wednesday, got out of his blue Lexus sedan and started taking pictures of the news photographers assigned to cover his official booking on a breach-of-trust charge following a two-year political corruption probe.
After he posed for a mugshot and was fingerprinted, the 66-year-old Guibord, mayor of Clarence-Rockland since 2010, exited the OPP's Kanata detachment and told the photographers to have a good day. More...
1310 News:
Three Rockland politicians and Ottawa lawyer charged. More...
CFRA News:
Clarence-Rockland mayor, two councillors formally charged with breach of trust. More...
Le Droit:
Criminal charges against Mayor Guibord. More...
(This sotry is in the French language.)
Vision:
Des accusations seront déposées (Charges are pending ). More...
Daniel Gatien soulagé (Daniel Gatien relieved). More...
(These items are written in the Frendh language)
Back to top
OPP concludes investigation into Clarence-Rockland
mayor and councillors

(Ottawa Citizen - Friday, September 6, 2013) The Ontario Provincial Police anti-rackets investigation into an alleged conspiracy involving the mayor of Rockland, two councillors and a lawyer has concluded, and is now in the hands of prosecutors who are considering whether or not to lay criminal charges.

The OPP investigation is anchored in emails between Mayor Marcel Guibord, his former business partner and two town councillors. Read more...


READ Le Droit's version of the story:
(Le Droit - Friday, September 6, 2013) The investigation by the Ontario Provincial Police anti-rackets division concerning Clarence-Rockland Mayor Marcel Guibord and some councilors is now complete. It only remains for the Crown to decide in the next few days, if criminal charges will be laid. Read more (click on "translating"). (French version here.)
Back to top
Marcel Guibord:
"There is nobody who conspired against the former CAO"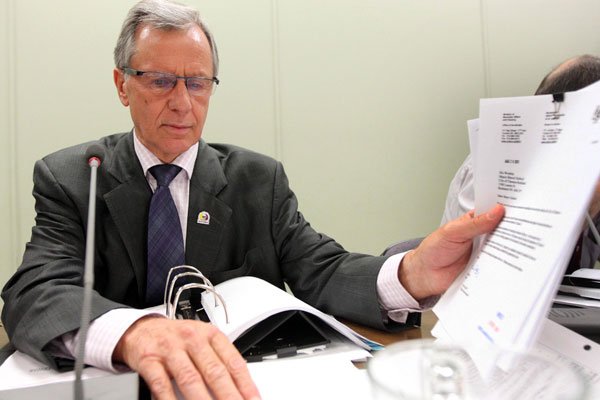 (Le Droit - Wednesday, September 4, 2013) Le dossier du départ de l'ancien directeur général de la Cité de Clarence-Rockland est revenu encore une fois hanter la réunion du conseil municipal, hier soir. Les élus de la nouvelle garde ont tour à tour assuré publiquement qu'ils n'avaient joué aucun rôle dans la démission de Daniel Gatien, qui a quitté son poste alors que le torchon brûlait avec le maire Marcel Guibord et les conseillers de sa garde rapprochée. (Read French version here.)
Rough translation:
The file on the former CAO of the City of Clarence-Rockland was back again, haunting the city council at last night's meeting. The elected members of the new guard in turn publicly assured that they played no role in the resignation of Daniel Gatien, who left his post as the battle continued with Mayor Marcel Guibord and his cronies. Read more... (click on "translating")
Back to top
Ottawa Citizen reports:
Clarence-Rockland council saga continues
(Ottawa Citizen - Tuesday, September 3, 2013) Seventeen items of official municipal business were slated for the agenda of Tuesday night's meeting of the Clarence-Rockland city council. None of those items accounted for the crowd of residents who were there to watch.

What the voting public, about 50 strong, was most interested in had to do with the in-camera session planned for the end of the meeting. Yet, this is what has become the norm in Clarence-Rockland, where sideshow has become synonymous with council. Read more...
Back to top
C-R Council
Tuesday meeting to discuss 'possible litigation'
(Friday, August 30, 2013) Again the Ottawa Citizen reports: "Clarence-Rockland city council has scheduled an in-camera meeting for Tuesday to discuss "possible litigation" against the city, as well as the current chief administrative officer's position." Read more...
Back to top
Former C-R CAO threatens legal action against city

(Wednesday, August 28, 2013) The Ottawa Citizen is reporting that ex-CAO Daniel Gatien is threatening to sue the city (of Clarence-Rockland) if it does not remove certain documents and a related press release from its website, items that Gatien says are defamatory. Read more...
Back to top
Clarence-Rockland City Council
Meets behind closed doors - Undercover-cops-attend
(Thursday, August 22, 2013) The Ottawa Citizen reported that "two undercover OPP officers attended the (C-R Council) proceedings "just to keep the peace," said Const. Roy Stephane. Their attendance is a recent, albeit irregular, occurrence." Read more...
Back to top
Clarence-Rockland local politics
"Old guard" responds to mayor's statement

Current and former members of the Clarence-Rockland City Council
gather for a news conference to outline their concerns about current conditions.
(Click on the pic to enlarge... Photo Patrick Meikle)
(Monday, August 12, 2013) GAB's Sport Bar was the setting for a meeting set up by anti-Guibord council members and supporters to respond to the mayor's letter of July 12.
The councillors included Guy Desjardins, Bernard Payer, Michel Thivierge and Raymond Serrurier, who chaired the event. They were joined by former mayor Richard Lalonde and members of the former city council.
The Ottawa Citizen covered the story with this headline:
"Clarence Rockland's 'old guard' councillors hold court at sports bar". They wrote: "Councillors Michel Thivierge and Raymond Serrurier resigned from their committees (including roads, bylaw, administration, health and recreation, and heritage) in solidarity with councillor Guy Desjardins, whom Mayor Guibord forcefully removed from his committee business last month, something the councillors pointed out is against municipal procedure."
You can read the Citizen story here.
Back to top
Local politics
Clarence-Rockland municipal council in disarray

(The Clarence-Rockland council chambers.)
(Tuesday, July 30, 2013) The ottawa Citizen ran two stories today that suggested that the "Clarence-Rockland municipal council rocked by more internal disputes".
Here are the links:
Clarence-Rockland municipal council rocked by more internal disputes
One municipal councillor for Clarence-Rockland has resigned from committees and another is considering doing the same after the mayor removed one of their colleagues from his committee positions...
Clarence-Rockland council split over loyalties to current, old mayors
The mayor of Clarence-Rockland is unfazed by the resignation of one of his councillors from committees in protest over his colleague's removal from his own positions.

In a press conference Monday, Mayor Marcel Guibord announced — unbeknownst to the councillor involved — that Coun. Guy Desjardins would be removed from his committee positions effective immediately.

Later that day, Coun. Raymond Serrurier resigned from his committee positions "in solidarity" with Desjardins. Coun. Bernard Payer told the Citizen on Monday he will likely do the same next week...
---
In a letter to media, Councillor Raymond Serrurier said:
"In light of your recent actions and more specifically today about Mr. Guy Desjardins your actions, this confirms that I have completely lost confidence in your ability to act as mayor and more I inform you I resigned as a member of various committees on which I sit.
Thank you
Raymond Serrurier
Councillor, Ward 4
(Comment: We are away from our office and are reporting from our mobile phone so we cannot offer more information at this time. Please follow the links. - Editor)
Back to top
Police want to question Rockland mayor, councillors, in anti-rackets probe
(Thursday, May 30, 2013) Ontario Provincial Police anti-rackets detectives are looking to questio
n Rockland's mayor and two councillors as part of their investigation into an alleged conspiracy to oust the town's manager from office.

Detectives went to Rockland Town Hall on May 22, but as yet have not been able to interview Mayor Marcel Guibord or councillors Guy Félio and Diane Choinière.

They have interviewed the mayor's former business partner and lawyer, Stéphane Lalonde.

The case is anchored in emails between Guibord, Lalonde and some town councillors.
Read more...
Back to top

The new mayor is sworn in.
Wonder what what the oath said?
---

The new council is sworn in.

---
Click here for original coverage.
The Canaan Connexion
is looking for writers

Would you like to become a
"Country Correspondent"?

Contact us:
---
Clarence-Rockland
---
Click here to view a World Clock with various time zones and assorted utilities.